Problem #2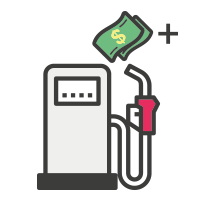 High Fuel Consumption
As time goes on and there is more internal metal wearing, the pistons and cylinder wall gradually starts losing its fuel efficiency. These include: fuel is unable to burn completely, contamination of oil and also compression leakage. Excessive fuel inside the chamber causes a breakdown of carbon deposits on piston rings, oil control rings and other piston parts, disrupting the flow of air and oil.
Lower fuel efficiency means more visits to the gas station, directly increasing mileage costs.
Super Nano Remetaliser restores your engine to the optimal state, repairing internal engine wear and greatly improve your engine's ability to burn fuel completely.